502-429-3866
An independent city in eastern Jefferson County, the city of Anchorage is one of the Louisville area's most upscale communities, known for the beauty of its homes and the quality of its schools. Here historic homes, country estates, and smaller homes sit side by side. Part of the city is designated as the Anchorage Historic District, which was listed on the National Register of Historic Places in 1982.
The Glenmary series of subdivisions is located in southeastern Jefferson County, Kentucky. It is south of the Gene Snyder Freeway (I-265) and accessed from Bardstown Road. It is in the "Fern Creek" area; however Fern Creek has no defined borders. In the Glenmary series, there are condos, patio homes, golf course homes, ranch, 2-story, and estates up to 5+ acres.
WELCOME TO THE GREATER LOUISVILLE AREA BY THE HOLLINDEN TEAM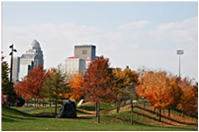 The Hollinden Team welcomes you to Louisville Homes Fast! The objective of this website is to be your one-stop shop for all homes for sale in Louisville and surrounding counties. You will find that under the 'Search Properties' tab at the top of the page, you will be able to browse through homes in Louisville and surrounding counties. You have the option to select criteria regarding your home search such as area, price range, bedrooms, bathrooms, etc. The homes that you see for sale on our website are the most up-to-date homes in the Louisville and surrounding markets. Our website pulls directly from the Louisville MLS which provides new listings as they come on the market. The surrounding counties that the Louisville MLS provides are Bullitt, Spencer, Shelby, Oldham, Jefferson, and several other counties including Indiana.
Louisville Homes Fast also allows you to set up a property search that is sent directly to your email address. Go to the Search Properties tab, then Property Tracker, then click on Saved Searches. Select your criteria and you are done! You must be a registered user on our website to set up a saved search. To register, click 'register' in the top right corner of the home screen.
In addition to homes for sale, this website provides you with a lot of other information regarding school, government, and other information pertaining to Louisville. This website also has a specific section dedicated to buyers and sellers. Under these tabs, you will find great information to help educate you on the home buying and selling process. The Hollinden Team's goal for this website is for you to have all the information you would ever need to buy or sell a home.
The Hollinden Team is one of the largest and top producing teams in Louisville. We have more than thirty years' worth of experience combined on our team. We are also full time licensed agents in Kentucky and Indiana. Because real estate is our full-time job, we are able to dedicate more time to always staying up-to-date on real estate trends and conditions. The real estate market is constantly changing and it is important to have a REALTOR that stays current. Not only does being a full-time REALTOR help us stay more up-to-date, it also allows us to dedicate more time to our clients. Providing excellent customer service is our number one commitment to you. Our team is also very technologically proficient. Being a tech savvy team, we are able to make your experience with us as convenient as possible. We are able to text and send documents to you that can be electronically signed. Make sure to check out the Hollinden Team reviews to see what our past clients have said about us.
Not only are we real estate agents but we are also homeowners. We have been where you are. We know how nerve-racking it can be to purchase a home or sell a home. Purchasing a home can be the most expensive investment of your entire life. We know how you feel. Our goal is to make sure any transaction with The Hollinden Team goes as smoothly as possible.
Thank you for visiting Louisville Homes Fast website! We hope you find our website to be a great resource to you for buying or selling a home. If you have any further questions, please click 'contact' in the top right corner of the home screen.