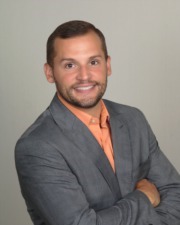 TJ Hollinden comes to us from a family that's been in real estate for 21 years and is a long-time resident of Oldham County. He has two fantastic elementary-age children that drive him to succeed in every aspect of life. Having been in and around the real estate industry for all of his life, he has many different experiences that aid in the success of his clients.
While attending Western Kentucky University, he worked as a contractor for Titan Construction. After attending WKU he finished his degree in Hospitality Studies at Sullivan University, allowing for a huge gain in his communication and customer service skills. Working in restaurants and golf clubs for the years leading up to his real estate carrier, he honed those skills into the exceptional customer service he offers his clients today.
In only his second year in the business, TJ broke $5,000,000 in sales with 29 transactions. TJ is a buyers specialist and has immense experience surrounding him with The Hollinden Team. He has worked with buyers from the $50,000 purchase point all the way up to $4,000,000. This allowed him the opportunity to learn all aspects of the market and all the different facets of buyers. With experience on the seller side as well, he will be able to help with all the tips and tricks of getting the deal done to best benefit his client, whether buyer or seller. His phone is always on and available nearly 24-7 and he is ready, willing, and able to serve. You can contact him directly at 502-410-9599.