915 Perryman Rd, Louisville, KY 40207
Posted by Emily Elder on Thursday, April 13, 2017 at 9:14 PM
By Emily Elder / April 13, 2017
Comment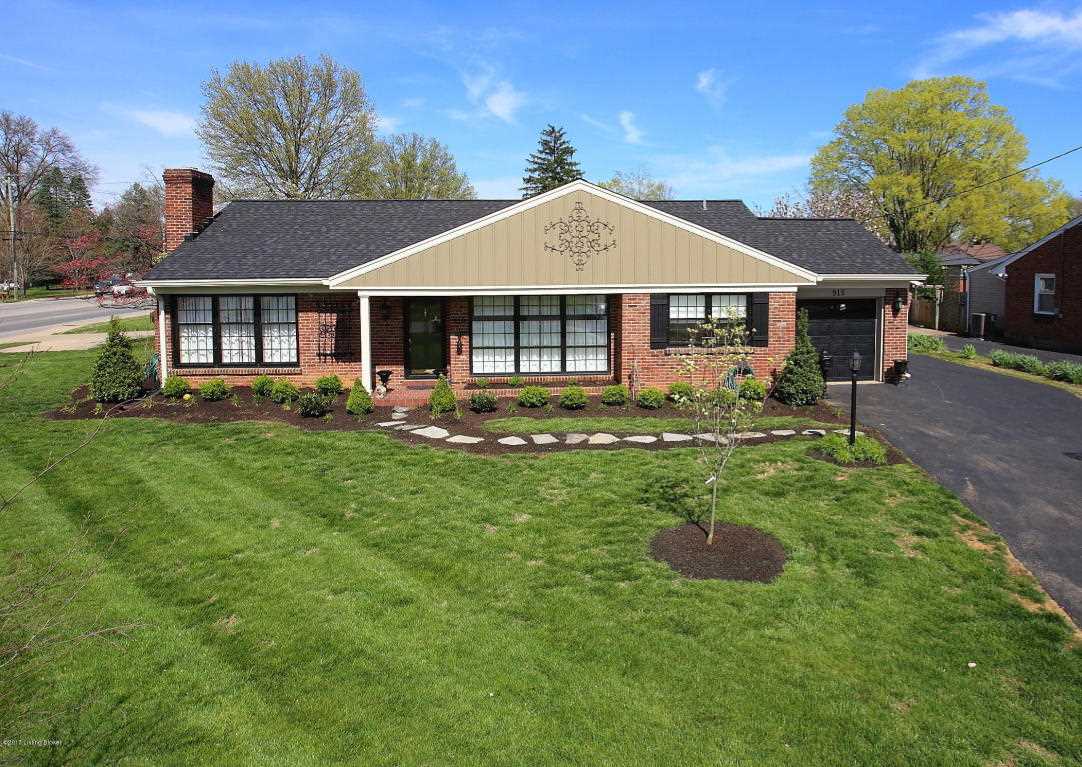 915 Perryman Road is no longer on the market. To learn more about homes for sale in St. Matthews, call the Hollinden Team at (502) 429-3866.
Welcome to 915 Perryman Road, a must-see home filled with designer upgrades throughout. This home is located in Woodlawn Park, an established neighborhood in the desirable St. Matthews KY area. Living in this area, you are centrally located to the whole city and close to expressways and shopping.
Approach this completely renovated ranch home and you will immediately notice the well-maintained large front lawn and manicured landscaping. The landscaping includes seven Jolly Green Giant Arborvitaes (along Westport Roadside), a white DogWood American Beech tree (offer beautiful leaf color in the fall), and an Aspiring Red Maple tree. There are all new bushes and trees in the front and backyard and the lawn has been treated for grub worms. This home has been freshly painted on the outside and inside and there is a brand new roof and new gutters. The current owner had added electrical outlets to the porch for lamps and other appliances.
The front door is custom made and has a shatter-proof glass with Baldwin solid brass knocker and handle. Also, the following items are new: two doorbells, column on the front porch, tile to front steps and side entrance, street numbers on front and side porch, Tennessee rock sidewalk with ivy in the front yard, and exterior light post. The lighting in the front and side of the garage is Hinkley Lighting (top of the line lighting). There is a brand new garage door and garage door motor. The garage is freshly painted on the inside with two new shelves installed for storage. The driveway was sealed in October 2016.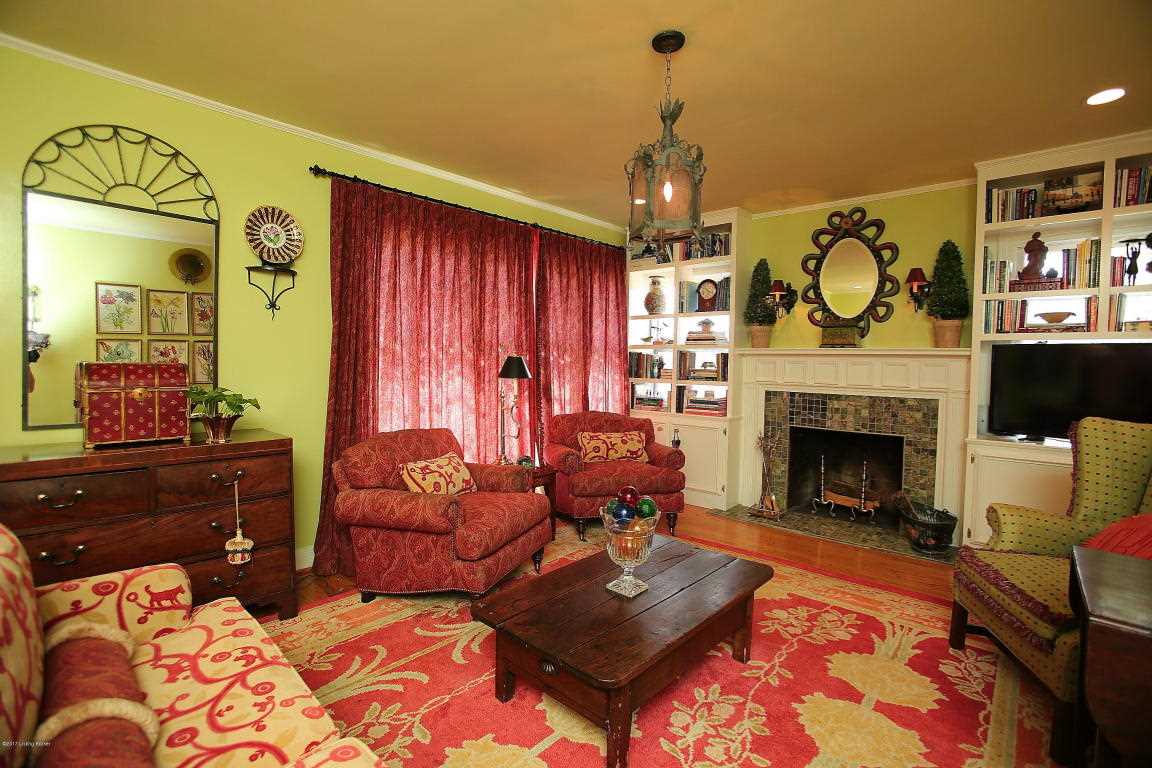 Note that all doors in this home are new and are solid wood with solid brass knobs and hinges. All windows in this home have new brass handles and knobs and the glass has been re-glazed (the window locks came from Klein). There is all new crown molding throughout the entire house and all ceilings and the walls have been painted (with oil-based paint) and re-plastered. In addition, there is new recessed lighting in the laundry room, dining room, kitchen, living room and the bathrooms. Eight new"Velux' sun tunnels have been added to different rooms guaranteed to never leak. New lighting has been put in all closets.
Entering into the home and you are greeted by the living room. Many updates have been made to this room. Four sets of new electrical outlets have been added and a new door was added in the living room with glass paneled moldings and custom door knob (a convenient way to the side porch). The living room features a new gas fireplace (the gas line was added to the fireplace), new custom mantle with rainforest marble hearth, hardwood floors, and custom built-in cabinets with fresh paint.
In the hallway, there is a new wrought iron lantern light with glass panels. The attic pull down staircase was removed, re-plastered and repainted (new attic opening in towel closet with a new door added). A brand new extra closet was added in the hallway with accent molding. The old door in the hallway was taken out and the ceiling was sanded and repainted.
Directly across from the living room is the dining room, creating a nice flow for entertaining. There is a custom built arched cased opening from the living room to dining room. The height was made much larger and wider and a new design was added to the wood with keystone at the top. The dining room features floor to ceiling windows, recessed lighting, wallpaper from France, and hardwood floors. The chair rail, crown molding, and quarter round are all new. The eat-in kitchen is accessible from the dining room.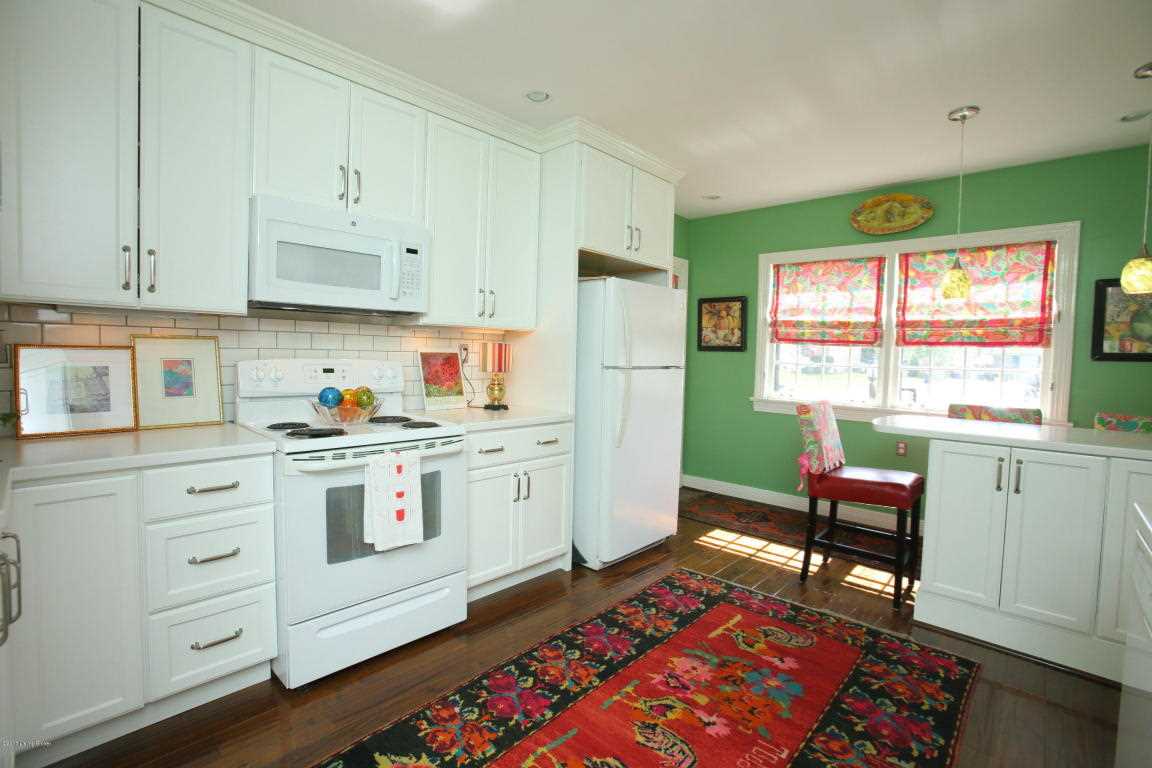 The kitchen has been completely gutted and has plenty of upgrades. The kitchen boasts real cypress hardwood floors, new white cabinets (hardware is from Klein's) with under cabinet lighting, chic pendant lighting, on-trend subway tile backsplash, Kohler faucet, new ceiling (painted and sanded and includes recessed lighting), newly painted walls, new electrical outlets, and white glacier Corian countertops. The neutral cabinetry, countertops, and backsplash allow the new owner plenty of options if they choose to change the paint colors. Also, take notice of the ample cabinetry offered. The new owners will have endless storage space in the kitchen area. The backdoor is also new and includes a solid brass handle, lock, and kick plate.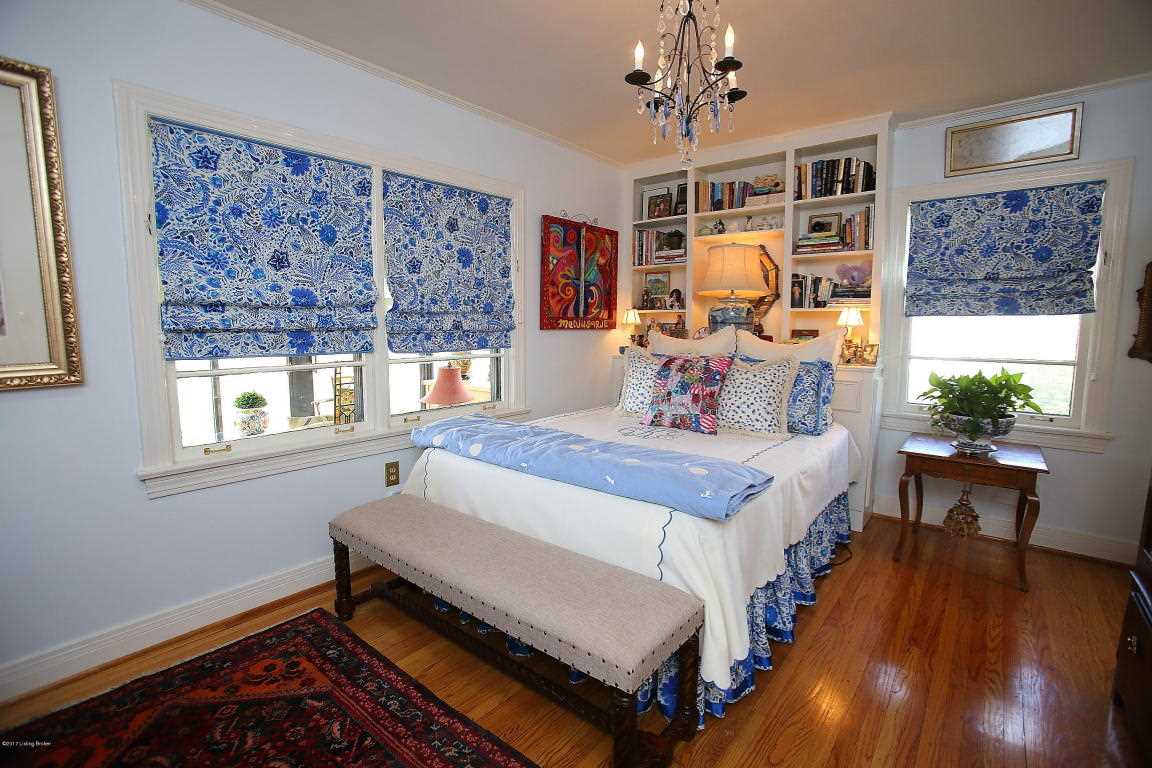 Moving to the owner's suite, you'll find hardwood floors, built-in cabinets, and windows that allow in plenty of natural light. There are custom bookshelves and three storage units on each side of the bed. There is a new solid wood door with molding, new solid brass knobs and hinges, new molding on both doors and around the entire room, and new light installed in the clothing closet.
The owner's bathroom features European wallpaper (by Tricia Guild), new tall toilet, and a new vanity with sterling silver knobs and Kohler faucet. The bathtub was resurfaced and has a new faucet and handles. Other updates include new solid silver mirror with glass perfume slab, new bathroom door with solid brass door knobs and hinges, new recessed lighting, new electrical outlets, new exhaust fan, new glass added to panels, new marble quarter round added to entrance of bathroom, new crown molding added, replaced tiles on the floor and walls, new electrical outlet in the closet, and new miniature chandelier added along with antique lights on each side of the mirror. The vanity is custom built and has sterling knobs.
The second bedroom also has hardwood floors and custom built-in cabinets, as well as a custom wooden storage unit built-in under double windows. The closet in this bedroom has two beautiful solid wooden estate doors with solid brass handles, kick plate, and glass.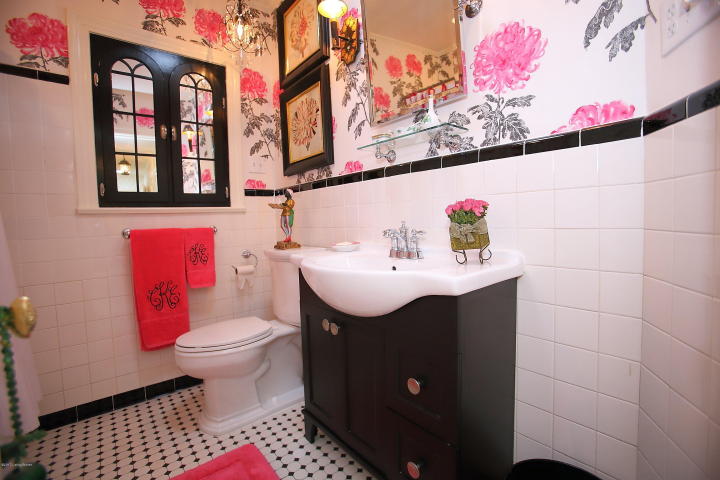 The full bathroom has a new Kohler large rain shower head, new faucet, and new shower handles. Other new items in the full bathroom include white tiles in the bathtub, vanity with black granite and German made faucet, recessed lighting with wrought iron chandelier with real Crystal prisms, bathroom fan, Velux' Sun tunnel added to ceiling for extra light, four custom storage units over the bathroom door with custom blue lapis knobs to match the other knobs in bathroom, rectangular mirror, custom crown molding, white marble tile threshold on the floor, and Hinkley light fixtures. There is a custom made single storage unit with glass panels over the toilet and European wallpaper (Splotte Paint by Hinson).
The third bedroom has been converted to a walk-in laundry room, equipped with custom painted floor to ceiling cabinetry, a new closet with double solid wood doors with wrought iron knobs, new slate flooring, freshly painted walls and ceiling, and a ceiling fan. There are laundry hook-ups available in the basement if you want to convert this room back into a bedroom.
This home also includes a basement. The door leading to the basement came from France and is solid wood and has new glass with solid brass handles and kick plates. The basement has a wide open space that would be perfect for a family room. New items in the basement include lighting, electrical outlets, sump pump, plumbing pipes, glass in windows, 50-gallon water heater, lighted cabinets for storage, custom made Roman shades, support wall, electrical panel, electrical circuit box, most of the electrical wiring, water valve, and lighting under cabinets. The stairwell was completely redone in the basement. The entire basement, including the steps, was repainted. Basement is dry and has a huge laundry washing bowl.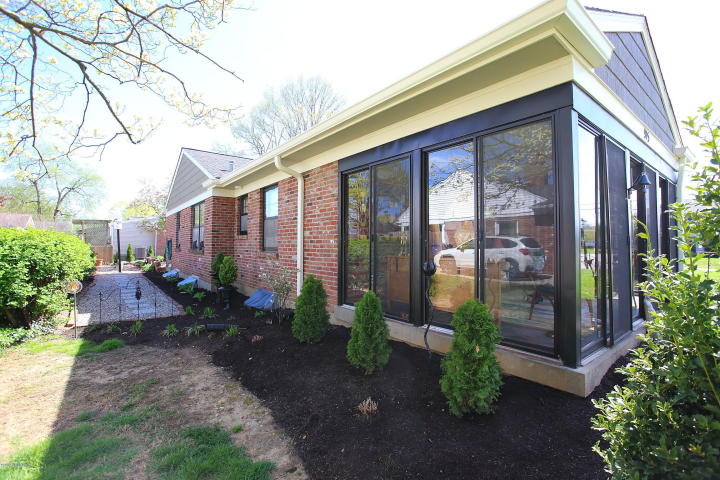 Move to the left end of the home and you will find a sunroom.The sunroom is perfect to enjoy the beautiful yard anytime of the year. All Roman shades and drapes are new and custom made with fringe and fabric from Europe. A ceiling fan has been installed and there is also brand new electrical wiring. The yard has a nice space for a garden or for other plants. There are three new hose bibs added to the exterior of the house, as well as a new spotlight in the back and the side of the house for safety and a new pebble/brick sidewalk in the backyard.
If you want a home that is move-in ready with high-end custom upgrades, this is the home for you. For more information on this home for sale in Woodlawn Park, contact the Hollinden Team at (502) 429-3866.