Red Day for Keller Williams
Posted by Steve Dobbs on Sunday, May 13, 2012 at 11:22 AM
By Steve Dobbs / May 13, 2012
Comment
Keller Williams Real Estate agents believe in giving back to their community and dedicate a day each May. The ongoing project is the West End Boys School for Keller Williams Louisville East.
West End Boys School was founded in 2005 by Robert and Debbie Blair. It is a free, private, middle school for at-risk young men. The boys eat their meals and sleep here making it a true boarding school. The proof in what they do is their graduating young men.
Barb LaMaster is a KW real estate agent in our office and has coordinated "Red Day" for years. Barb also puts together a Christmas meal for the boys and Barb's fellow Keller Williams agents.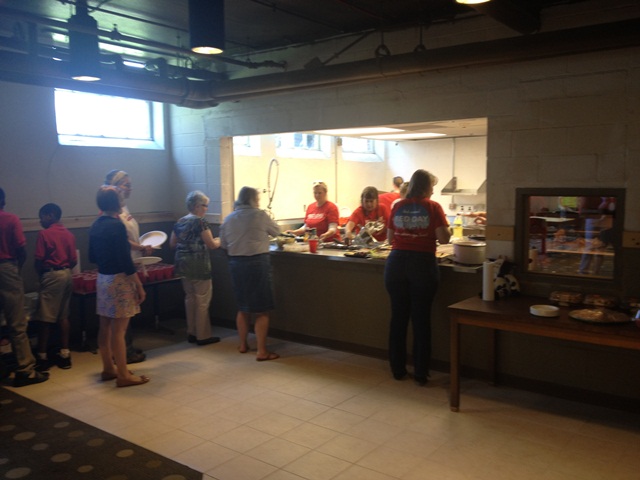 Our function started with a meal with the students and faculty. Of course, the teachers were honored by starting first and the KW agents finished up. One of our goals was to get to know each young man a little better and they were scattered about with one or two fine gentleman per table. And, the word, "gentleman" would be an understatement. When they were introduced to us, they met with a firm handshake and looked us in the eye. Their table manners were impeccable. At our table, the conversation covered a lot of topics, but the highlight was Nelson Mandela and Apartheid. I asked them if they understood what Apartheid meant and further discussion ensued. I was very impressed.
The West End School always has projects for volunteers and we had more jobs to do than time allowed. Three classrooms are being added this fall as part of their expansion. We cleaned and painted the ceiling grid in 3 rooms and the hallway. We also knocked down a temporary wall that was part of their current lunchroom. For those wanting fresh air, the courtyard had weeds that needed to be eliminated and mulch applied. As the old saying goes, "Many hands make light work". This summer, the boys have a required reading list and our KW office donated books for the boys to enjoy.
If you want to know more about the West End School in Louisville, or see what The Hollinden Team is up to, we would be happy to share our experiences.
Or, if you want to know about the Louisville Real Estate Market, call Tim Hollinden at 502-429-3866.