11 Ways to Save for Your Down Payment
Posted by Emily Elder on Wednesday, September 21, 2016 at 10:30 AM
By Emily Elder / September 21, 2016
Comment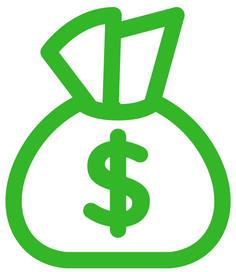 Saving for a downpayment on a home can be difficult, especially if it is your first home. I know that when I was saving for my first home, I have to develop a strategy in order to save money each month.
The first question most prospective home buyers ask is, "how much money do I need to put down?" It is most often suggested to have a 20% down payment when purchasing a home. Twenty percent down payment helps avoid Private Mortgage Insurance (PMI). PMI can cost homebuyers several hundreds of dollars a month. If you are unable to put 20% of the sales price down, there are loan options that allow you to put 3.5% down. Some loan programs even allow you to put just one percent down!
If you struggling to save for your down payment on your home, consider some of the following tips:
Get Preapproved- The first step in saving for a down payment for a home is knowing how much you can afford. You can do this by setting up an appointment with a lender. The Hollinden Team has preferred lenders that we can recommend to you.
Determine How Much You Want to Spend- When your lender preapproves you for a loan, he should be able to give you an idea of what your monthly mortgage payment will be based on sales price and interest rate. The lender will also be able to determine the down payment necessary based on the price of the home. After examining these numbers, you should begin to determine what you can afford. If you have not visited a lender yet, feel free to use our mortgage calculator. Keep in mind, interest rates sometimes fluctuate. Fluctuation will impact your projected monthly mortgage payment and your down payment. Keep in contact with your lender to stay up-to-date on the latest interest rates.
Set a Timeframe- Your timeframe to move really depends on how much you need to save for a down payment. If you need to move quickly and don't have much money saved up, you may want to consider purchasing a cheaper home.
Create a Budget- Listing all of your expenses and where your money is going every month makes people more accountable and aware of how they spend their money. You may find that you are spending money on unnecessary items that can be cut out.
Cut Out Unnecessary Spending- Do you really need that $5 Starbucks latte every morning? Could the beach vacation wait this year? There are probably many expenses you could cut out of your budget. If you are trying to aggressively save for a down payment, anything that is not a necessity should be cut out of your monthly budget.
Create a Savings Account- Your checking account and savings account should never be bundled in one account. It is best to separate these accounts so that you know which money is off-limits.
Treat Savings like a Bill- Just like your cable bill or water bill, saving money every month should be treated like a bill you have to pay. When you do this, you become more disciplined when saving your money. To ensure that you pay your monthly savings 'bill', consider setting up a monthly automatic deposit from your checking account to your savings account.
Cash Reward Credit Cards- Cash reward credit cards are a great way to save money for your down payment. Chase Freedom Unlimited, Bank Americard Cash Rewards, Citi Double Cash Card, and Capital One QuickSilver are just some of the few credit cards that offer cash back options.
Sell Unused Items- We all have items that we aren't using. Consider selling the items on Craigslist, Facebook Yardsale, or Ebay.
Avoid Car Payments- If your car is already paid off, consider keeping your vehicle rather than purchasing a new one. Not having a car payment can save a tremendous amount of money monthly.
Downsize- If you live in an apartment, consider downsizing to a smaller apartment to save money. You could also look into other apartments in the area. You may be able to find an apartment cheaper than the one you are living in for the same size. Often, apartment communities offer promotions to new residents. This could be something you could take advantage to save money. Another option is moving in with family. This isn't always realistic for some but if you are able to do this, you could save a lot of money.
Do you have any questions or comments regarding saving money for your down payment? Are there any other money saving tips that you've tried that we didn't mention? Leave your questions and comment below. Feel free to call the Hollinden Team with your questions as well: 502-429-3866.