SEVEN REAL ESTATE TRUTHS
1. Having an agent represent you has its advantages:
Professional representation… I am your personal representative and I'm required by law to represent your best interests to the best of my ability.
Personal specialist… it's similar to hiring an accountant to help you file income taxes or a mechanic to fix your car. If you had the time to master those specialties, you would be doing your own taxes and fixing your car. But who has that sort of time? Besides, most people will sell only two homes in their lifetime – two real estate transactions in a lifetime will not turn anyone into a real estate specialist.
Objectivity… my job is to point out all the pros and cons of all the decisions you will be making throughout the home-selling process. I will even tell you things you may not want to hear because as your agent, I want you to make informed decisions, not emotionally-based decisions.
Convenience… these days, it's nearly impossible to sell a home all by yourself without it turning into a part-time job.
2. Not all real estate professionals are Realtors®. Only licensed real estate agents who are members of the National Association of Realtors can call themselves Realtors®. Realtors® are committed to treating all parties honestly; they subscribe to a strict code of conduct and are required to maintain a high level of real estate standards. It is to your advantage to work with a Realtor® because of the training and standards this professional designation requires.
3. The price of your home should be based on the price of sold properties in your area rather than the list price of properties now on the market – this is how we establish your home's fair market value.
IF IT IS PRICED OVER ITS FAIR MARKET VALUE, IT WILL...
Not attract many buyers because they'll think it's out of their price range.
Take longer to sell.
Make competing properties look good.
Become "shopworn."
Be overpriced on everyone's minds (agents and buyers) and they tend not to forget.
Cause you to lose valuable time and miss out on buying your dream home.
Cause advertising dollars and marketing efforts to be wasted.
Cause negotiations to stall.
Cause appraisal problems.
End up selling below market value in order to make up for all of the above.
4. Research conducted by the National Association of REALTORS® shows that more buyers purchase their properties at fair market value – not above it. The percentage of buyers increases, even more, when the price drops below fair market value.
5. The fair market value of your home is determined by the market – that is, what today's buyers are willing to pay. Buyers are comparing your home to other homes now on the market. They don't care about:
What your neighbor says
What you spent on upgrades
What it costs to build today
What you spent on repairs
What you spent on remodeling
What you spent on new carpet
What you paid
What you need
What you want
6. Your home generates the most interest in the real estate community and among potential buyers, during the first 30 days it is on the market. If it is not properly priced during this time, we miss out on this peak level of interest: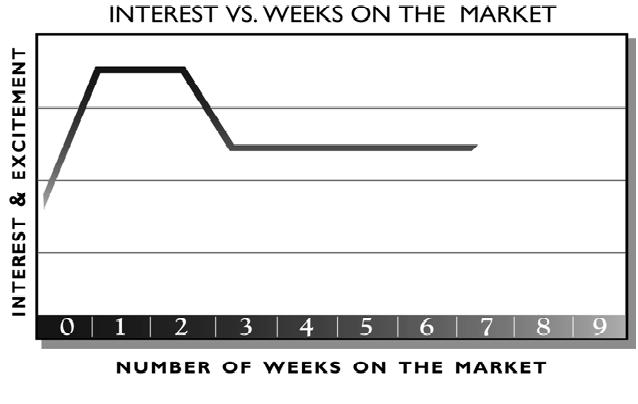 7. Ads are not very effective for selling real estate. Data compiled in 2003 by the National Association of REALTORS® showed that buyers first learned about the home they purchased from:
Real estate agent-----------41%
Yard Sign----------------------16%
Internet------------------------11%
Newspaper Ad-----------------8%
Friend, Relative, Neighbor--8%
Builder---------------------------8%
Other----------------------------6%
Knew the seller---------------4%
Home book, magazine-------1%